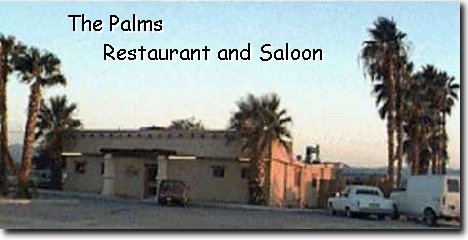 The Palms Restaurant
Wonder Valley, California, USA
When traveling through the Hi-Desert between Palm Springs and Laughlin, you should stop at the Old Saloon/Restaurant "The Palms". This establishment has been around since the early fifties and is a great place for a short break in your travels.
Cocktails, Beer and Wine
Great Hamburgers & Cheeseburgers
Complete Steak or Rib Dinners
Free Overnight Camping
Free Maps to the Old Gold Mines
(there are many in the area)
Bikers: On your next "Motorcycle Run", stop in and get a taste of an era long gone. It is less than 20 miles from the entrance to the Joshua Tree National Park, and about 15 miles east of the 29 Palms Marine Base. The Palms likes to host events such as wet downs, and receptions. The building has 2100 sq. ft situated on 5 acres with a patio area and an outdoor stage. It has hosted Battle of the Bands events in the past. It is a great place to relax and have some fun.
The Palms Restaurant
83131 Amboy Road
Wonder Valley, California 92277
For more information, call The Palms at:
(760) 361-2810
GOLD MINE TOUR INFORMATION
CLICK HERE
E-MAIL US!



CLICK HERE
DenWeb 1999